Badou Jobe does Gambia proud at Kora awards
Article from Daily Observer of September 6, 1999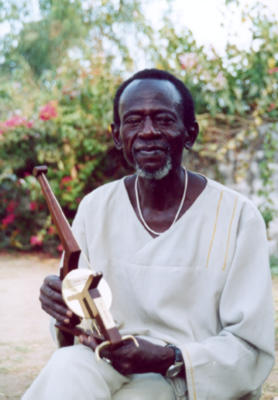 Veteran Gambian musician, Badou Jobe, has been named Africa's Best Music Arranger in this year's 1999 Kora Music Awards. Kora is the leading annual pan-African music awards.

Mr Badou Jobe is the first Gambian to win this award. The award ceremony was attended by Nelson Mandela, pop star Michael Jackson and other distinguished personalities from Africa and abroad. The Kora awards were televised live to more than a hundred million viewers worldwide and was hosted in Sun City, South Africa.

Mr Badou Jobe's music career spans more than 37 years. He started his career in the late 50s with Foyer band (Hill Street) and later joined African Jazz. In 1968, he and his friends started Super Eagles, which metamorphosed into Ifang Bondi, arguably The Gambia's greatest band yet.

Badou Jobe started as a plumber but quit his trade when he taught himself to play the guitar in the '50s.

Speaking to Daily Observer yesterday, former band member Oussou SÚnor Njie, said, "This is a very big achievement for The Gambia and a big boost for our fledgling music industry. Badou's achievement was a result of hard work and dedication. I urge young musicians to work hard if they want to achieve what Badou achieved."

Mr Jobe has been living in Holland for the past 15 years, where he still maintains the Ifang Bondi logo.