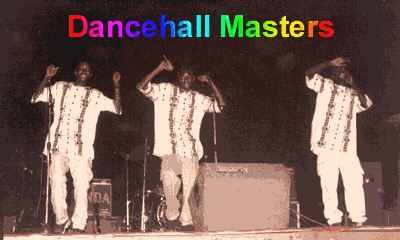 During the 1999 first Gambian Rap Awards, Dance Hall Masters were voted as the Best New Group. The trio who came together in November 1998 with the motive of enlightening young as well as old on issues worth knowing about are Brother Coms Daddy Sam and Mister P. The groups vocalists Brother Coms (Lamin Fatty) and Daddy Sam (Mam Balla Joof) were recognised solo singers before teaming up, at the request and encouragement of Pa Jallow of Studio Galan. They were later joined by dancer Mister P.
Their latest album "Brother Man", released in October 1999 is appealing to the youths not to despair; that life can be hard or easy; that in life all doors could be closed to develop one's abilities to the fullest. Life could as well be of ups and downs, but with persistent struggle and determination, one will one day reap the fruits of one's labour.
When they started their singing career, their families were not supportive. Like some, they felt music is associated to drugs. "But we are determined not to be seen in that light." They assured.
Their parent's support is not the only problem they are facing. One of their most pressing problem is the problems of sponsorhip. They don't have anyone to assis them financially.