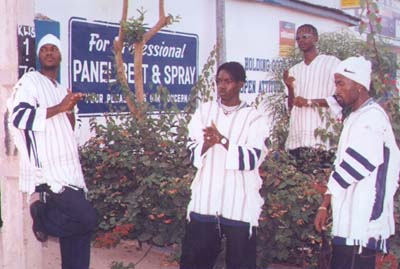 Mystic, Codless, Hobio and Bady B
Black Nature was one of the groups nominated at the 1998 Gambia Music Awards
Quite recently, young musical groups of outstanding flare have emerged in the tiny West African State of the Gambia; host of Roots Home Coming Festival. Tiny as it may be geographically speaking, The Gambia is nonetheless witnessing a surprising and impressive coruscate of musical groups with jingles ferrying similar but reckoned messages of unity, co-operation and peace. But none rivals Black Nature, a neighbourhood musical glitterati under the umbrella of House Vibes.
Founded in 1995 and steered by a quadruple alliance devoid of a leader, Black Nature has over the years effectively used their magnetising lyrics as an instrument to disseminate House Vibes' standardised resolutions of unity, love and tolerance. Though manacled by limited resources, Black Nature has many lyrics to their credit, outstanding of these WE CAN DONE, LOVE (Mbugel), STOP STEALING (Sachayi) and PEACE (Jubo) are all licensed on ragga-hip-hop with rhythmic beats depicting the African cultural heritage.
However, one of the striking and commendable aims of House Vibes' Black Nature (otherwise called melokani nit kunjul) is fight against drugs and alcohol - a social malaise pandemic amongst the youths they are out to entertain and educate. Although the Gambia has least reported cases of vices, it is however important that a youth group is taking up these matters with seriousness.
But as finance is hard to come by, it is becoming relatively difficult and frustrating for young Gambian musical gurus to record and market their often hard-written lyrics. To call a spade a spade, Black Nature's financial situation is sympathetic and regrettable, a situation one of the group proponents, Saul, holds responsible for the delay of their impending album.
However dwarfed Black Nature's shaky financial footing may look their lyrics are characterised by gaudy opulence of messages, musical beats and rhythm. Their artistic prowess is garnering them a growing number of fans while the chip sachayi (the thieves) continues to be featured on national television.
The insatiable thirst for ragga hip-hop and modernised Ndaga-Mbalah music, has lit a shadow of blessing and promising to the long-in-oblivion talents. The momentum if kept, could transform The Gambia into a viable center of musical and artistic excellence adding to her already fortified Mecca of tourist attraction.
Submitted by Abou Jeng
Mystic MC speaks out after months of silence


Kololi is a small new settlement in the western part of the Gambia with a noted element of cultural diversity in addition to it being host to Black Nature, a neighbourhood musical gem whose artistic prowess and explosive lyrics is generally appreciated, if not envied by many young Gambians.
As the first rap group to release an album, Black Nature is the flag bearer of rap in the Gambia. But all these shining points were nearly overlooked, when one of the group's most adored vocalists, Mystic MC suddenly left the Gambia for Denmark. His departure fuelled rumours in the Gambia that the group was bound to disintegrate.
Recently, Mystic MC showed up at the Djembe offices and had a lengthy discussion with the editorial team. In a sombre and reassuring mood, Mystic MC dismissed as "baseless", the rumours that he left the group "in search of greener pastures".
He emphasised that he is currently in Denmark on a mission for the group and that he had since his arrival, "been in constant contact with recording companies in an attempt to give Black Nature an international status". Says the rap vocalist: "I've contacted a number of companies in both Sweden and Denmark. Unfortunately, they can't tell me anything definite as they've already planned for this year", he laments.
The 21-year old rap artist also notes that they are interested in big companies, as the smaller ones do not have the capacity to promote for a broader public. Asked about the whereabouts of Baddy B, another member of Black Nature reportedly in Europe, Mystic MC informs that he is in Belgium, "for the same purpose. Baddy B will try to make contacts with companies such as Island Records in the UK," he snaps in a visible state of hope and composure.
"Black Nature", Mystic continues, "will release an album in two months and fans in the Gambia will be surprised to hear his voice on this album," in the wake of rumours that he left the group. Both he and Baddy B will be returning to the Gambia in December, an assertion corroborated by the group's Gambian based manager, Sulayman Colley.
Meanwhile, Mystic is trying his luck with recording companies to take Black Nature on board. He has earlier conducted successful ragga and hip-hop radio phone-in-programmes at ANR FM in Denmark's second biggest town, Århus.

SkyRecords - Record label of Mystic MC

Mystic MC - Do You?

Home- Back to the Culture page
E-mail mcamara nospam@post3.tele.dk

Last updated on May 10, 2007