Buba Jammeh
BUBA JAMMEH AND HIS BARRAWULO-BAND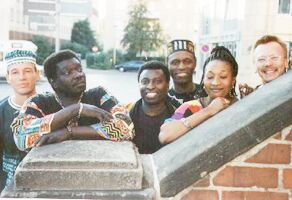 The golden voice from The Gambia, West Africa
At age 7, BUBA JAMMEH started singing and playing African drums in his hometown of Bakau. At 39, Buba has proved beyond all doubts that he is a master musician, having already established himself as The King of Rhythm. His songs are appeal for brotherhood of man freedom, justice, equality and oneness in community. His music is largely inspired by the traditional folk music of his native Gambia.
He sings and records songs in Mandinka, Woloff, Fula, Krio and English, telling the stories of his homeland and his people. He is the composer, songwriter, arranger, percussionist, rhythm-guitarist and lead- singer in his 6-to 8-peace band and also organises lots of African rhythmic workshops in schools on singing and playing the guitar, congas, bass, keyboards and drums. Buba travels extensively in Europe, Asia, and Africa to play in concerts, radio and television stations. His base though is Berlin where for the past 15 years he has been thrilling fans at festivals, clubs and music-cafes with his band and popular solo performances.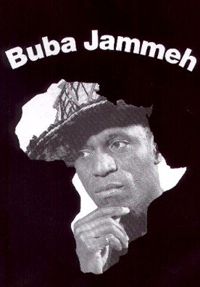 Presently Buba has come up with a new African beat that will surely win the hearts and minds of all music lovers. The beat, called Barrawulo, meaning farmersland in the Mandinka language, entails singing, drumming and dancing and symbolisses a great deal of Gambian culture. The music is unique and easy to follow. Buba's band, which can be engaged on 2-hourly basis, plays stimulating and authentic African music, calypso and reggae using keyboards, saxophone, trumpets, drums, bass, lead guitar, acoustic guitar, congas and African drums. The group is made up of experienced African and European musicians and a dancer on special request (flames of the stage), who puts on Gambian costumes ready to dance, dance, dance.
This rhythm is based on the culture of the Mandingoes whose descendants can be found in many African countries today, after having probably the greatest empire in ancient Africa. Barrawulo playing has a lot of feedback. When the lead vocalist sings a lead, the Kuteros, sabaro would answer "Kungku dungdung kukung" and the chorus follows thus "Yeah yawa yeah ha", meaning "Yes we hear you". The music is so enticing that no one can resist its impulses. One must dance on hearing it.
In fact, culturally speeking Barrawulo music used to be played for both men and women in the fields to make their toils easier, hence the name. It's the beat and the real thing you've been looking for. You'll surely love them, wait till you see them live.
Buba´s Motto: Its not the music but what you put into it.
BUBA JAMMEH
Bergfriedstr. 10
d-10969 Berlin (Germany)
Tel. 030/614 94 47
Fax 030/615 44 11
Discographic:
Kiang Jenyerr Ku Lumba
(1p 5mp; eipro nr J.R. 10B)

Bongas in My Mouth; The Original African Man
(Single; Eipro 1981)

Kaulach Sorina Vol. 2
Home- Back to the Culture page
E-mail mcamara@post3.tele.dk

Last updated on April 9, 2006